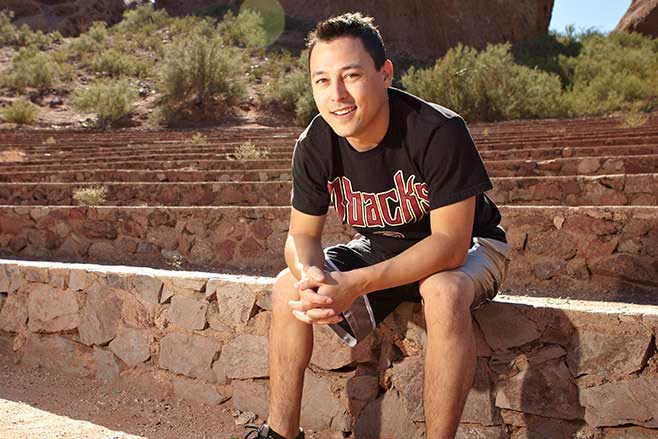 Tory, a 27 year old resident of Phoenix, never expected that a debilitating hip condition would force him to give up some of his favorite activities, such as golfing and swimming, at such a young age. However, in 2011, that's exactly what happened.
It started as a dull pain that got progressively worse over time. Shortly thereafter, Tory heard a "pop" while swimming, at which point the discomfort became more consistent. Determined, Tory pushed through the uneasiness and kept up his daily routine, including his regular round of golf. Before long however, "normal activities" such as sitting down and standing up, traveling stairs and walking long distances became agonizingly painful and golf was soon out of the question. Tory knew that something needed to be done.
Tory was referred by his physician to Dr. Jimmy Chow of the Arizona Center for Bone & Joint Disorders. An MRI revealed a rare condition called bilateral avascular necrosis, where the bone dies due to interruption of the blood supply. Dr. Chow suggested a surgical procedure called core decompression, a procedure commonly used to treat Tory's condition that involves drilling a small hole in the bone with the hope that new healthy tissue will fill in the void. The procedure saved Tory's left hip, but his right hip continued to deteriorate.
About a month later, Dr. Chow advised Tory that his right hip was unable to be saved and educated him about the SuperPath® Total Hip Replacement procedure by MicroPort. Dr. Chow explained that the SuperPath® technique is a method whereby the implant is built inside the body, so the hip is not dislocated or twisted into unnatural positions during surgery, which is a common element to many other hip procedures. Tory was intrigued when Dr. Chow indicated that since no muscles are cut during surgery, recovery from the SuperPath® procedure is quicker and less painful for the hip muscles than traditional hip replacement surgery.
In June 2012, Tory had his right hip replaced via the SuperPath® procedure and when he woke up, he immediately noticed that the discomfort in his hip was gone. A good portion of patients who undergo this procedure are walking around a few hours after waking up, however Tory's procedure was performed at night, so the medical staff had him on his feet early the next morning. 26 hours after checking in, he was discharged.
Only four days after the surgery, Tory stopped taking pain medicine and within a week after the procedure, Tory regained almost full range of motion in his right hip. Activities that were once difficult – such as walking, climbing stairs and getting in and out of the shower – were routine once again. Tory has regained his quality of life and is enjoying many of his hobbies, including golf. "I can't imagine what a traditional hip replacement is like. The SuperPath® procedure is innovative and amazing," Tory said. "If more people knew this procedure was out there, I don't know how they could pass it up."
The SuperPath® technique, from MicroPort, is a surgical method whereby the implant is built inside the body, so the hip is never twisted into unnatural positions during surgery — a common element to many other hip procedures. The SuperPath® technique enables surgeons to take into account each patient's unique anatomy, select the most appropriate implant and selectively release a single tendon during surgery, only if necessary.
These results are specific to this individual only. Individual results and activity levels after surgery vary and depend on many factors including age, weight and prior activity level. There are risks and recovery times associated with surgery and there are certain individuals who should not undergo surgery.
Only a physician can tell you if this product and associated procedure are right for you and your unique circumstances. Please consult with a physician for complete information regarding benefits, risks and possible outcomes.