Once they are pain free, Total Hip Arthroplasty (THA) patients want to get back to their pre-surgery activities as fast as possible. When compared to national averages, patients treated with the SuperPath® Hip Technique have stayed in the hospital for a shorter amount of time, been discharged to their home more often, and are less likely to return within 30 days for any reason, all without the typical post operative hip restrictions associated with traditional THA techniques.19-21
There are many elements to a rapid recovery, and one of the key factors is the choice of surgical approach. Minimally invasive surgical approaches work towards this goal by preserving more muscular structures. By keeping more structures intact, postoperative reduction in pain medication, faster return home from surgery, and faster functional recovery are all possible.
SuperPath® hip approach
In its current form, SuperPath® embodies a philosophy of approaches, rather than a singular, stepwise form. In this way, we believe we have created a truly adjustable alternative to traditional hip surgery and other minimally-invasive approaches. With the hard work of multiple inspired surgeons and engineers combining their experiences, ideas, designs, and intellectual property, the current toolset and technique facilitates a smooth workflow and a truly original re-evaluation of traditional hip surgery.
SuperPath® hip approach vs. traditional posterior and anterior approaches
Although the SuperPath® hip technique and the anterior approach are both soft-tissue sparing techniques, a comparison of peer reviewed clinical data from the two approaches illuminates many key advantages of the SuperPath® hip technique: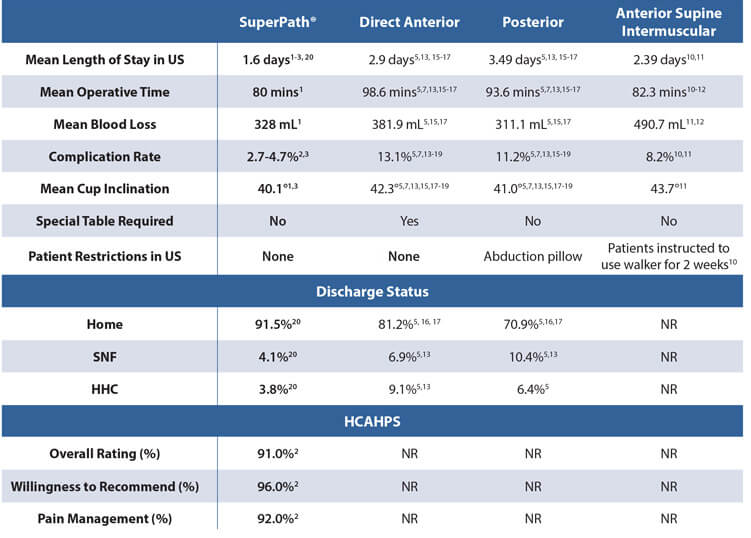 NR: Not Reported; SNF: Skilled Nursing Facility; HHC: Home Health Care
Every patient is different, and individual results will vary. There are risks and recovery times associated with surgery.

2.3%19,21
vs. 4.2% Readmission rate

1.619,20
vs. 3.2 Days length of stay

91.5%19,21
vs. 27.3% Discharged home
SuperPath hip approach & tissue preservation
"I think the things that excite me most about the SuperPath Approach is that the incision size, minimizing the soft tissue trauma. Patients are appreciative of that and the other thing that's very exciting about the SuperPath Approach is the speed at which they recover. It's been remarkable as far as how fast they're able to get up, move, and get back to their daily activities."
- Dr. Anil Thomas MD, Atlanta, GA
Surgeon insights on the SuperPath® hip approach
"SuperPath patients without question experience rapid recovery."
- Dr. Judd Cummings MD, Scottsdale, AZ
"Well, you could argue SuperPath is big surgery, but it doesn't feel that way to the patients, it's not such a big consideration. So, now we have a method in which we can go in and out of a hip joint multiple times with minimal tissue disruption, minimal disruption to the patient's both anatomy, and function. I think that's the biggest game changer of SuperPath."
- Dr. Jimmy Chow MD, Phoenix, AZ
PRECAUTIONS & DISCLAIMERS
Every patient is different, and individual results will vary. There are risks and recovery times associated with surgery.
These surgeons are paid consultants for MicroPort Orthopedics. The opinions expressed are theirs alone and do not necessarily reflect the opinions of MicroPort Orthopedics Inc.
References

Chow et al., Modified superior approach for THA with percutaneous assistance: Technique and early results. Paper 353, AAOS Annual Meeting, Chicago, IL, 2011
Hospital Consumer Assessment of Healthcare Providers and Systems (HCAHPS), http://www.cms.gov/Medicare/Quality-Initiatives-Patient-Assessment-Instruments/HospitalQualityInits/HospitalHCAHPS.html. Reported mandatory HCAHPS scores for patient experience following Hips procedures. Scores reported by a single non-designing hip surgeon. Data on file at MicroPort.
Chow et al., Modified micro-superior percutaneously-assisted total: Early experiences & case reports. Curr Rev Musculoskelet Med, 4, p146-150, 2011
Martin et al., A comparison of hospital length of stay and short-term morbidity between the anterior and the posterior approaches to total hip arthroplasty, J Arthroplasty, 28, p849-54, 2013
Alecci et al., Comparison of primary total hip replacements performed with a direct anterior approach versus the standard lateral approach: perioperative findings, J Orthopaed Traumatol, 12, p123-9, 2011
Nakata et al., A clinical comparative study of the direct anterior with mini-posterior approach: Two consecutive series, J Arthroplasty, 24, p698-704, 2009
Matta et al., Single-incision anterior approach for total hip arthroplasty on an orthopaedic table, CORR, 441, p115-124, 2005
Jewett et al., High complication rate with anterior total hip arthroplasties on a fracture table, CORR, 469, p503-507, 2011
Seng et al., Anterior-supine minimally invasive total hip arthroplasty: Defining the learning curve, Orthop Clin N Am, 40, p343-50, 2009
Yi et al., Early complications of anterior supine intermuscular total hip arthroplasty, Orthopedics, 36, 2013
Peters et al., Anterior supine intermuscular approach for total hip arthroplasty: A 90 degree turn-around, JBJS(Br), 91-B, 2009
Rodriguez et al., Does the direct anterior approach in THA offer faster rehabilitation and comparable safety to the posterior approach?, CORR, 472, p455-63, 2014
Geest et al., Direct anterior total hip arthroplasty: Complications and early outcome in a series of 300 cases, Acta Orthop Belg, 79, p166-173, 2013
Barrett WP, Turner SE, and Leopold JP, Prospective randomized study of direct anterior vs postero-lateral approach for total hip arthroplasty. J Arthroplasty 2013; 28: 1634-8.
Zawadsky MW, Paulus MC, Murray PJ, and Johansen MA, Early outcome comparison between the direct anterior approach and the mini-incision posterior approach for primary total hip arthroplasty: 150 consecutive cases. J Arthroplasty 2014; 29:
Bergin PF, Doppelt JD, Kephart CJ, Benke MT, Graeter JH, Holmes AS, et al., Comparison of minimally invasive direct anterior versus posterior total hip arthroplasty based on inflammation and muscle damage markers. J Bone Joint Surg Am 2011; 93: 1392-8.
Sugano N, Takao M, Sakai T, Nishii T, Miki H, and Nakamura N, Comparison of mini-incision total hip arthroplasty through an anterior approach and a posterior approach using navigation. Orthop Clin North Am 2009; 40: 365-70.
Taunton MJ, Bohannon Mason J, Odum SM, and Springer BD, Direct Anterior THA yields more rapid voluntary cessation of all walking aids: A Prospective, Randomized Clinical Trial. The Journal of Arthroplasty 2014
Gofton W, Chow J, Olsen KD, Fitch DA Thirty-day readmission rate and discharge status following hip arthroplasty using the supercapsular persutaneously-assisted total hip surgical technique. International Orthopaedics (SICOT) 2014.
AHRQ HCUPnet (2012) Agency for Healthcare Research and Quality H-CUPnet Database, ICD-9-CM Code 81.51 for United States in 2011. http://hcupnet.ahrq.gov/HCUPnet.jsp. Accessed 4 Sept 2014
Pugely AJ, Callagham JJ, Martin CT, Cram P, Gao Y (2013) Incidence of and risk factors for 30-day readmission following elective primary total joint arthroplasty: analysis from the ACS-NSQIP. J Arthroplast 28(9):1499-1504. Doi:10.1016/j.arth.2013.06.032.