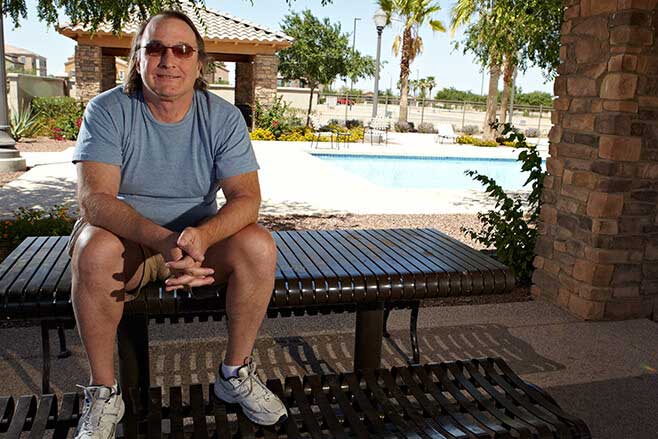 Scott, a 51 year old resident of Gilbert, Ariz., rarely sits down. From his job as a handyman, his interest in civil rights and work as a musician, he and his wife are constantly on the move. When he isn't working, at a gig or attending a rally, he spends his time on various home improvement projects. However, a serious medical condition was about to force Scott to the sidelines. It started in late 2009 when Scott experienced a rapid onset of pain in his left hip that significantly impacted his quality-of-life. He immediately sought an expert medical opinion and was diagnosed with avascular necrosis, a disease that limits the blood supply to the hip and causes the bone to die.
Six months after the pain began, Scott struggled to get out of bed each morning and descend the stairs to the kitchen. If he was on his couch, it was exceedingly difficult to get up. The pain, which prevented him from engaging in his daily activities, became so severe that a long-planned trip to Las Vegas was postponed. As the pain progressed, Scott relied on crutches to get around. Knowing he couldn't continue down this path, he began researching surgical options and scheduled a consultation with Dr. Jimmy Chow of the Arizona Center for Bone & Joint Disorders.
Dr. Chow met with Scott and after an x-ray revealed that the avascular necrosis was in the more advanced stages in his left hip, suggested a hip replacement. Fortunately for Scott, Dr. Chow is trained on the SuperPath® Total Hip Replacement technique by MicroPort, the orthopedics company whose artificial hips are used by Dr. Chow. The SuperPath®technique enables surgeons to take into account each patient's unique anatomy, select the most appropriate implant and selectively release individual muscles during surgery.
In April 2010, Scott was implanted with his new hip. When he awoke from the procedure he was amazed that he barely felt any pain. Perhaps more amazing was that within 48 hours he was walking with minimal assistance. After completing the necessary physical therapy Scott's left hip was feeling great, but Scott's right hip was starting to bother him. When a core hip decompression procedure that is designed to preserve some of the bone didn't alleviate the pain, Scott opted to undergo a second hip replacement with Dr. Chow and the SuperPath® technique in September 2010. Scott's second surgery was equally as successful as his first. Within several days he was walking around as though he never suffered from avascular necrosis. With such positive results, Scott moved the crutches that he once depended upon to his garage, where they have collected dust ever since.
Recently, Scott and his wife took the long-awaited trip to Las Vegas and he recorded a music video for his band. As Scott says, "Instead of wallowing in pain and disability, I am back on my feet doing everything I love, thanks to my new hips."
The SuperPath® technique, from MicroPort, is a surgical method whereby the implant is built inside the body, so the hip is never twisted into unnatural positions during surgery — a common element to many other hip procedures. The SuperPath® technique enables surgeons to take into account each patient's unique anatomy, select the most appropriate implant and selectively release a single tendon during surgery, only if necessary.
These results are specific to this individual only. Individual results and activity levels after surgery vary and depend on many factors including age, weight and prior activity level. There are risks and recovery times associated with surgery and there are certain individuals who should not undergo surgery.
Only a physician can tell you if this product and associated procedure are right for you and your unique circumstances. Please consult with a physician for complete information regarding benefits, risks and possible outcomes.