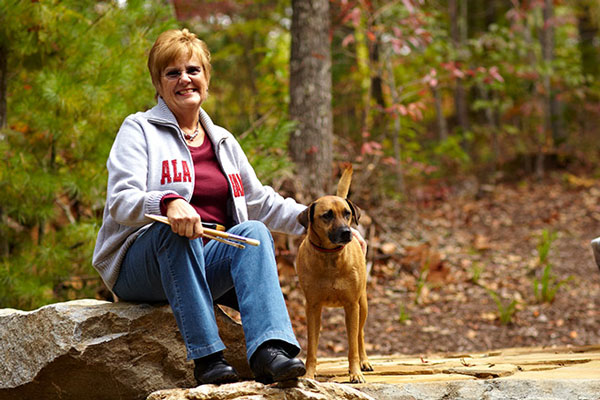 Lucille is a 64-year-old Boca Raton resident who enjoys an active lifestyle. However, the wear and tear of years of golfing, swimming, hiking and yoga eventually took a toll on her joints. In 2007, she had her right knee replaced and because x-rays revealed arthritis in her right hip, her surgeon also suggested a hip replacement. Lucille was not experiencing any discomfort at the time so she declined the surgery, however just two years later, she was in constant pain.
Lucille tried over-the-counter pain medications, acupuncture and orthotics, but they produced little relief. For the next two years, Lucille's condition worsened to the point where she had difficulty walking, tying shoes, could not climb stairs and couldn't sit or stand for long periods of time.
In June 2010, Lucille's mother-in-law broke her hip and fell. In the hospital, Dr. Elvis Grandic was the orthopedic surgeon on call who successfully completed the operation on the 92-year-old woman. While visiting her, a nurse noticed Lucille's deteriorating condition and that's when the nurse shared the experience of her own successful knee replacements, performed by Dr. Grandic at Orthopedic Surgery Associates in Boynton Beach, and suggested a consultation. During the consultation, Dr. Grandic prescribed a gradual increase in pain medications and two separate cortisone shots, but all were ineffective.
"I was relying on a cane regularly for mobility as the pain was unbearable," said Lucille. "We recently visited our cabin in Georgia and I couldn't join my husband on our regular hikes because I was so immobile. It was at that point that I knew I had to fix the problem."
When she returned from her trip, Lucille met with Dr. Grandic and inquired about other treatment options, including a hip replacement. Dr. Grandic suggested that she would be a good candidate for the SuperPath® technique by MicroPort, a surgical method whereby the implant is built inside the body, so the hip is not dislocated or twisted into unnatural positions during surgery—a common element to many other hip procedures.
"Dr. Grandic thoroughly explained the SuperPath® technique and indicated that I could expect a quick recovery, but it seemed a little too good to be true," said Lucille. "From my research, most traditional hip replacement surgeries involved dislocating bones and cutting the muscles, which translated into a long recovery time. However, I ultimately decided that it was the best option for me."
On December 21, 2011 Lucille received a new hip via the SuperPath® technique and just a few hours later, was moving around the hospital halls with the assistance of a walker. There was no sign of any hip pain at all.
"Three days after surgery I used a walker to hike our half mile beach trail and the next day I ditched the walker and used a cane to manage the trail," said Lucille. "The swelling was minimal and I was able to sleep on my right side."
Two weeks after her operation, Lucille was able to engage in routine activities that most people take for granted, including walking up and down the beach stairs and washing her car. After years of immobility, she was finally able to put weight on her right leg.
"The recovery was much better than I expected. In fact, I was using a cane longer before surgery than after," said Lucille. "I have my life back, I'm enjoying my favorite activities, and I am working on improving my golf score! Pain free, drug free, shortened hospital time, quicker recovery…what more could you ask for? I don't know why I ever waited so long for this procedure."
The SuperPath® technique, from MicroPort, is a surgical method whereby the implant is built inside the body, so the hip is never twisted into unnatural positions during surgery — a common element to many other hip procedures. The SuperPath® technique enables surgeons to take into account each patient's unique anatomy, select the most appropriate implant and selectively release a single tendon during surgery, only if necessary.
These results are specific to this individual only. Individual results and activity levels after surgery vary and depend on many factors including age, weight and prior activity level. There are risks and recovery times associated with surgery and there are certain individuals who should not undergo surgery.
Only a physician can tell you if this product and associated procedure are right for you and your unique circumstances. Please consult with a physician for complete information regarding benefits, risks and possible outcomes.