What is the Anterior Approach for hip replacement?
Hip replacement surgery has been performed using the Anterior Approach for over 100 years, but has become more popular recently due to its development in minimally invasive surgery. 
One of the biggest advantages of the Direct Anterior Approach over traditional surgical approaches is the visualization during the surgery. This is because in the Direct Anterior Approach, unlike traditional surgical approaches, the incision is made in the front (anterior) of the hip joint between muscles allowing clear access for the procedure.
To access this interval, the patient lays flat on their back instead of on their side as in traditional surgical approaches. This orientation used in the Anterior Approach easily allows for x-rays to be used throughout the entire procedure, allowing the surgeon see what is happening during the surgery. The Anterior Approach has more accurate implant placement compared to traditional approaches, in large part due to intraoperative imaging11,12. Accurate placement of implants plays an important role in minimizing dislocations, and the Anterior Approach has a lower dislocation rate compared to traditional approaches8,13,14.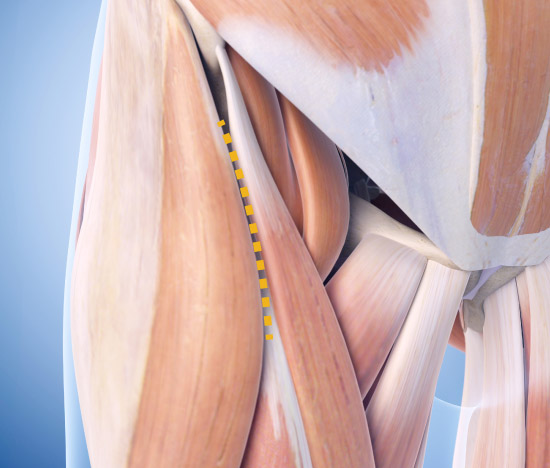 Advantages of Direct Anterior
Compared to traditional surgical approaches, the minimally-invasive Direct Anterior Approach has a:
Shorter length of stay in the hospital1-7
More patients discharged home1,3,5,7
Faster functional recovery2,4-6,8-11
References

Alecci V. Comparison of primary total hip replacements performed with a direct anterior versus the standard lateral approach: perioperative finding. J Orthop Traumatol. 2011; 12(3):123-9.
Martin C. A comparison of hospital length of stay and short-term morbidity between the anterior and posterior approaches to total hip arthroplasty. J Arthroplasty. 2013; 28(5):849-54.
Zawadsky M. Early outcome comparison between the direct anterior approach and the mini-incision posterior approach for primary total hip arthroplasty: 150 consecutive cases. J Arthroplasty. 2014; 29(6):1256-1260.
Christensen C. Comparison of patient function during the first six weeks after direct anterior or posterior total hip arthroplasty (THA): a randomized study. J Arthroplasty. 2015; 30(9):94-7.
Connolly KP, Kamath AF. Direct anterior total hip arthroplasty: comparative outcomes and contemporary results. World J Orthop. 2016; 7(2):94-101.
Goebel S. Reduced postoperative pain in total hip arthroplasty after minimal-invasive anterior approach. Int Orthop. 2012; 36(3):491-8.
Schweppe M. Does surgical approach in total hip arthroplasty affect rehabilitation, discharge disposition, and readmission rate? Surg Technol Int. 2013; 23:219-27.
Mirza A. A mini-anterior approach to the hip for total joint replacement: optimizing results: improving hip joint replacement outcomes. Bone Joint J. 2014; 96B(11): 32-5.
Barrett W. Prospective randomized study of direct anterior vs postero-lateral approach for total hip arthroplasty. J Arthroplasty. 2013; 28(9): 1634-8.
Rodriguez J. Does the direct anterior approach in THA offer faster rehabilitation and comparable safety to the posterior approach? Clin Orthop Relat Res. 2014; 472(2): 455-63.
Nakata K. A clinical comparative study of the direct anterior with mini-posterior approach: two consecutive series. J Arthroplasty. 2009; 24(5):698-704.
Rathod P. Does fluoroscopy with anterior hip arthroplasty decrease acetabular cup variability compared with a nonguided posterior approach. Clin Orthop Relat Res. 2014; 472(6):1877-85.
Sheth, D, Cafri, G, Inacio, MC, Paxton, EW, Namba, RS. Anterior and Anterolateral Approaches for THA Are Associated With Lower Dislocation Risk Without Higher Revision Risk. Clin Orthop Relat Res. 2015; 473:3401–3408.
Tsukada S, Wakui M. Lower Dislocation Rate Following Total Hip Arthroplasty via Direct Anterior Approach than via Posterior Approach: Five-Year-Average Follow-Up Results. Open Orthop J. 2015; 9:157-162.

Patient Precautions

Every patient is different, and individual results will vary. There are risks and recovery times associated with surgery. Consult your doctor to determine if hip replacement surgery is right for you.

Individual results and activity levels after surgery vary and depend on many factors including age, weight and prior activity level. There are risks and recovery times associated with surgery and there are certain individuals who should not undergo surgery. Please click here to read about risks associated with surgery. Only a physician can tell you if this product and associated procedure are right for you and your unique circumstances. Please consult with a physician for complete information regarding benefits, risks and possible outcomes.