MicroPort Orthopedics takes great pride in our community and takes advantage of every opportunity we can to give back. We believe that there is no better way to reflect our values, than by giving to the community that has given so much to us and to our employees. By doing all we can to help lift up the communities around us, we can change the world, one charitable act at a time.
Listed below are just some of the activities we, as the MicroPort family, have participated in recently. We are proud to support these organizations, their purpose and this community.
Events In Memphis Sponsored by MicroPort
Earth Day 5k, Greenline ½ Marathon, Forrest Spence 5k
Arlington Groups Sponsored by MicroPort
Arlington Middle School Cheer, Arlington High School Softball, Arlington Education Foundation, Arlington Friends of Theater, Arlington Middle School Dance Golf Tournament, Arlington Chamber of Commerce, Shepherd's Haven
West Tennessee Veteran's Home
The West Tennessee Veteran's Home Project 100 is helping raise the local funds needed to build a State Veteran's Home in our area. The funds raised will be used to build a 144-bed highly skilled nursing facility. It will be designed as a community living center in a residential setting, with the setting itself intended to be part of the overall therapy. To help support this project, MicroPort has made a donation in honor of our veterans.
Donations for Gallaway Nursing Home

Each month, MicroPort employees collect donations for Gallaway Nursing Home, not far from MicroPort, in Gallaway, TN. The residents and employees at Gallaway are always so excited and thankful for everything that is donated. The employees who deliver the donations also enjoy spending time with the residents.
Food and Toy Drive for Fayette Cares

Each year during our holiday meal each year, we hold a food and toy drive for Fayette Cares. Fayette Cares gives away approximately 400 holiday food baskets to Fayette County families in need each year. They also have a separate toy event in which families are able to pick out toys for their children. For more information about Fayette Cares, click here.
MicroPort Blood Drive Success!
Twice a year, MicroPort holds a blood drive for the local Life Blood clinic. Several employees donate each time, and each donation can save up to three lives, so the units our employee donate have the potential to save many patients in our local hospitals.
Walk to Cure Arthritis
Each year, MicroPort sponsors the Walk to Cure Arthritis, which is held in Memphis in early June. We fundraise through washing cars, selling t-shirts and hats, candy grams, tickets for raffle prizes and we also have a silent auction.

Relay for Life

MicroPort is an annual sponsor of The American Cancer Society's Relay for Life, held in the fall at the Arlington Town Square. The American Cancer Society Relay For Life is the world's largest and most impactful fundraising event to end cancer. It unites communities across the globe to celebrate people who have battled cancer, remember loved ones lost, and take action to finish the fight once and for all. Today, with the support of thousands like you, the American Cancer Society is helping save more than 400 lives a day.
Memphis City Beautiful

The MicroPort Regulatory group participated in the Memphis City Beautiful Great American Clean Up by picking up trash at Shelby Farm's Discover Park. This nationwide event engages Memphians to work together in this clean-up and community improvement effort. City Beautiful typically recruits as many as 30,000 people nationwide during the campaign's three month window.

Days of Charity
MicroPort Orthopedics cares about supporting and improving our local communities. Between Thanksgiving and Christmas, we encouraged employees to participate in a Days of Charity project where business units work within their teams or collaborate with other groups to give back to our surrounding communities. The following groups made quite an impact on the surrounding communities and the charitable organizations that usually provide the Christmas cheer.
Research and Development Department
Research and Development department participated in a scavenger hunt teambuilding event at the Memphis Zoo & Aquarium; this teambuilding activity also had a charitable purpose… The scavenger hunt clues led team members to various places around the zoo where they would collect parts for a wagon. Once all the parts were collected, the participants headed back to Once Upon a Farm to assemble the wagons.


At the end of the day, R&D proved they were more than eagle-eyed part hunters they became a well-oiled, wagon-building machine! The event was a success and, in addition to the 7 wagons donated to Habitat for Hope, the group built friendships and fond memories.
Human Resources Department
The Human Resources department focused their charity efforts on a few of MicroPort's own employee family members. The team rallied together to support two separate families, which included 3 adults and 5 teens. Over $2,000 was collected!! Christmas gifts were purchased for the youth and the remaining funds were divided between the parents of the two families. It was noted that the generosity of the team ensured that both families were able to have gifts for their children and some extra money for essential items.
Regulatory Department

The Regulatory team, through the Salvation Army Angel Tree Campaign, ensured that four children would be taken care of for Christmas. For over 100 years, the Salvation Army's Red Kettles have been providing much needed support to impoverished families across the U.S. The Angel Tree program began in Virginia in 1979. The program name created itself because the organizers "identified the wishes of local children by writing their gift needs on Hallmark greeting cards that featured pictures of angels." This year, MicroPort took part in fulfilling the wishes of some local angels!
Clinical Department
The Clinical Affairs team focused their support on leading a food drive for the Mid-South Food Bank. The team also sponsored a very successful food drive. Through the generous donations of MicroPort employees and a "Little" muscle power, the team delivered 1,125 pounds of food!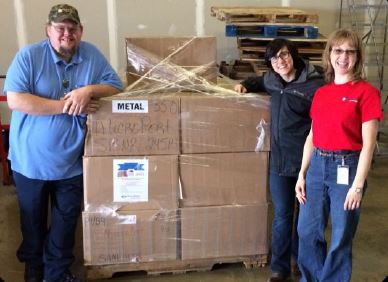 The Mid-South Food Bank (MSFB) is a member organization of Feeding America, the national network of food banks. The MSFB partners with any charitable organization (or faith-based equivalent) in their service area that feeds needy and hungry people free of charge by granting them eligibility to apply to receive food from Mid-South Food Bank.
Quality Department
The MicroPort Quality team's charitable efforts focused on the Exchange Club - Carl Perkins Center for the Prevention of Child Abuse. The Center's mission is to "provide support to families in preventing and dealing with child abuse and to help both parents and children meet the practical needs of preserving and improving the quality of family life." Although the organization heavily relies on support from the community - companies, organizations and individuals – it manages to assist needy families with daily necessities, as well as to provide extensive counseling and support services:
Victim Advocacy and Child Protection Investigative Team coordination

Drug abuse counseling and parenting classes for families

Administrative assistance for individuals regarding applications for Tennessee Victims Compensation

Public access to pantry of free food and free clothes closet

Forever Parents program - offering classes and counseling for divorcing parents with children

Relative Caregiver Services – helping relatives, usually grand-parents that have become the primary caregivers for their relatives' children

Christmas assistance to individuals in the community
The Center's Christmas drive had a little help from some elves at MicroPort. The individual donations of toys and monetary donations the center received from MicroPort and other community partners helped the center provide Christmas gifts to double the number of children who received assistance the previous year!
Sales Operations, Contracting, Sales Training and Implant Partners Teams
Team members from Sales Operations, Implant Partners, Contracting, and Sales Training partnered with the Habitat for Humanity Hernando - Desoto Affiliate. Dan Williams, chair of the construction committee, was very impressed with our team's diligent efforts and noted that they had accomplished much more than the construction committee expected. Their efforts made the home much easier to finish during the week prior to the dedication ceremony for the homeowner.
Numerous MicroPort Employees
A number of MicroPort employees from across the Arlington campus reached into their pockets and hearts to ensure that seniors in the Gallaway Health and Rehab Center would be able to share in the Christmas spirit. Approximately 40 residents received gifts on Christmas Eve courtesy of MPO employees. Many residents have few family members or visitors, so our efforts went a very long way for those who have precious few belongings in their current surroundings.